---
Monthly Angel Number Energy
~ January ~
A Heaping Spoonful of New Beginnings & Fresh Starts
---
Energy is shifting and dynamic. It is constantly flowing, changing, and running in and out of our lives. The energy around us affects the energy within us, and with each passing month, there is a significant energy shift as the number it resonates with changes.
The angels are using this monthly energy to send us guidance and suggestions so that we can use it to make the most of our life's path and to accomplish our dreams, goals, and soul's mission.
The following post is what the angels want us to know about the monthly angel number energy of January.
January is an interesting month when it comes to angel number energy. That is because so many energetic shifts occur that it may be difficult to know which one to focus on. Or even which one will have the most significant impact on you.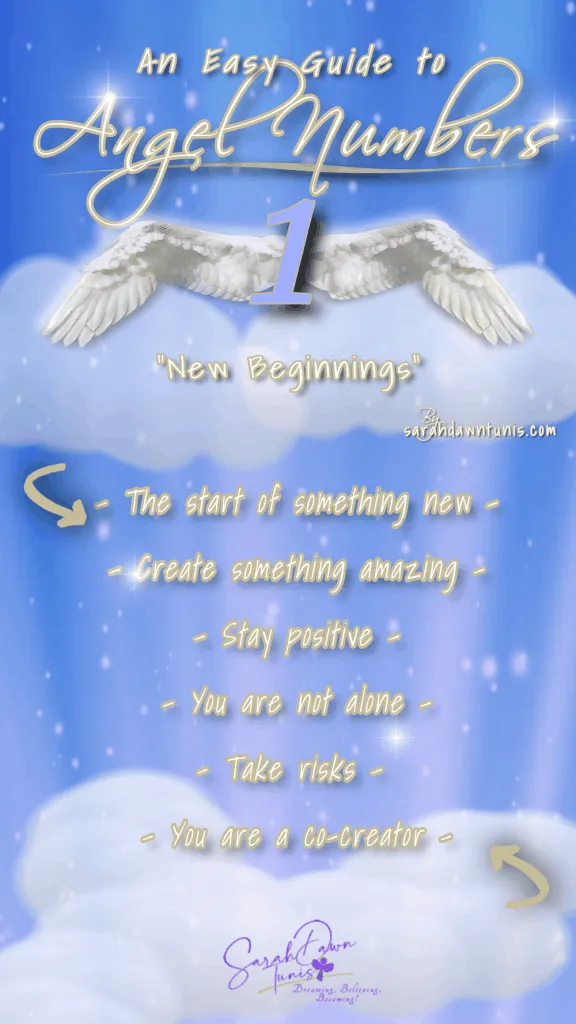 The Angel Number One
Knock, knock, knock… it is the angel number 1, and it is bringing with it the first bout of change that is hanging over your head right now. With it comes a whole lotta new beginnings and fresh starts. Not only that, but this energy is asking and expecting you to be super positive and happy about it!
But don't worry. You have exactly what it takes to make the most of this energy and if you don't believe me, just refer to the energy of the number itself – because it is the energy of having exactly what it takes to do anything you set your determined little mind to.
And if that is not enough, the angel number 1 also carries the energy of being loved, supported, and surrounded by angels.
So you really have no reason to doubt, just stay positive and know that you, along with your angels, got this!
If you can do that, then you've got the start of this year in the bag. You are golden, my friend.
Because the angel number 1 is wrought with the energy of individuality, relying on oneself, inspiration, determination, motivation, willpower, and everything we need to accomplish all those new year's resolutions along with all the dreams and goals your heart can come up with.
But one of the strongest and most significant energies of the angel number one is that of quickly manifesting what you are thinking about. So if you can stay focused and positive and trust in the love and support you know you have from your angels, there isn't anything you can't achieve this year, all beginning with the positive foundation you set this month with the help of the angel number 1.
New Year Resolutions!?!
Speaking of New Year resolutions, those pesky things we set every year to make positive change but usually forget about by February. Yes, thooooose New Year resolutions…
Why not try something different this year? Read this post to learn how to set intentions instead. And see how it really is so much easier, fun, and much more effective for not only creating the new beginnings you desire but also manifesting the positive change that has felt so elusive in years past.
The Change in Universal Year and Personal Year Energy
So what about those other shifts in the energy I mentioned at the beginning of this post? I was talking about the universal year and your personal year. Both of those significant energies shift as soon as January 1st knocks at the door. Although, how that energy is going to play out for you during the year is different every year and different still for each of us as individuals.
All of this is really a whole lot of shifting, changing, and therefore adapting we all need to do once January 1st gets here.
This is when I usually find myself asking, "Which one of these energies is the most important?", "Which one should I focus on and pay the most attention to?"
Well, over the years, of asking that questions and then seeing how the year plays out, I have come up with a theory about the best order to learn about, pay attention to, and focus on in order to make the most out of the upcoming year.
Read this post to find your personal year and universal year numbers. Then follow the guide to see what the numbers mean for you this coming year. Followed by a channeled message from the angels.
In my experience, it is your personal year number that carries the most significance of all the shifts in energy occurring this month. This is the energy that is going to impact you on a personal level for the entire year, and, in my experience, it is the energy you will notice affecting you the most.
If you only want to focus on one number and use that energy to make the most of your year, it should be your personal year.
Follow the links or click here to learn more about your personal year, calculate what yours is this year, and follow a guide to help you understand what that number means for you.
Second to your personal year, I suggest focusing on the energy of the angel number 1 and, as such, the monthly energy of each month.
Each month the energy changes, and this will, no doubt, have some influence over you, your life, and your goals, but it is a much smaller and less impactful energy than your personal year.
My recommendation is to pay attention to and use this energy in combination with your personal year energy to enhance each month and get the most out of your dreams and goals in the coming year as a whole.
Click here to see all the Monthly Angel Number Energy descriptions.
And finally, learn about and spend time understanding the energy that comes with the universal year. While still having a significant impact, the universal year seems to be the one that carries the least amount of weight for you as an individual. However, if you are interested in the energy of the collective and the planet as a whole – the universal number is the one you want to pay attention to.
If you haven't already, read this post to calculate the universal year and read the guide about the influence each number has over the year.
To conclude
Overall, we can surmise that this is a lot of change going on – therefore, there are a whole lot of new beginnings along with a big ol' heaping spoonful of fresh starts, which is exciting but not always easy – especially when there is so much of it, and it is so intense.
But the angel number 1 is a clear reminder that we carry a lot of power to influence our reality and what happens in our lives. We have the power to co-create, and we can and will make our dreams come true.
With all the shifts in energy occurring as this New Year begins. Focus only on the energies that you feel drawn to. As you follow your heart and your inner guidance, the angels will ensure that you have the exact right information that you need to make the most out of this coming year.
May your 2023 be blessed and as amazing as you are!
January 2023 Events:
Happy New Year! Be sure to read, This New Year: Manifesting Real Change in the Coming Year.
The energy of January 1st (1/1) occurs this month. Walk through the doorway and read up on the energy of the angel number 11 to get the most out of this powerful and dreamy day.
January 11th (1/11) also occurs this month. Be sure to read about the energy of the angel number 111 so you can make the most out of this day of positivity and manifestations.
The final Mercury Retrograde of 2022 that began on December 28th will go direct on January 18th. That is a lot of time in retrograde this month.
More Angels and Angel Numbers