---
Monthly Angel Number Energy
~ July ~
Rest, Reflect, and Don't Forget to Celebrate!
---
Energy is shifting and dynamic. It is constantly flowing, changing, and running in and out of our lives. The energy around us affects the energy within us, and with each passing month, there is a significant energy shift as the number it resonates with changes.
The angels are using this monthly energy to send us guidance and suggestions so that we can use it to make the most of our life's path and to accomplish our dreams, goals, and soul's mission.
The following post is what the angels want us to know about the monthly angel number energy of July.
---
It's July! You know what that means, right? It is time to celebrate!

No, I don't mean celebrating a holiday or special event. I mean, it is time to celebrate you and all that you are. It is time to take a step back and reflect on how far you have come. A time to really see how much you have accomplished. And a time to relish in the joy and appreciation of what a powerful and amazing person you are.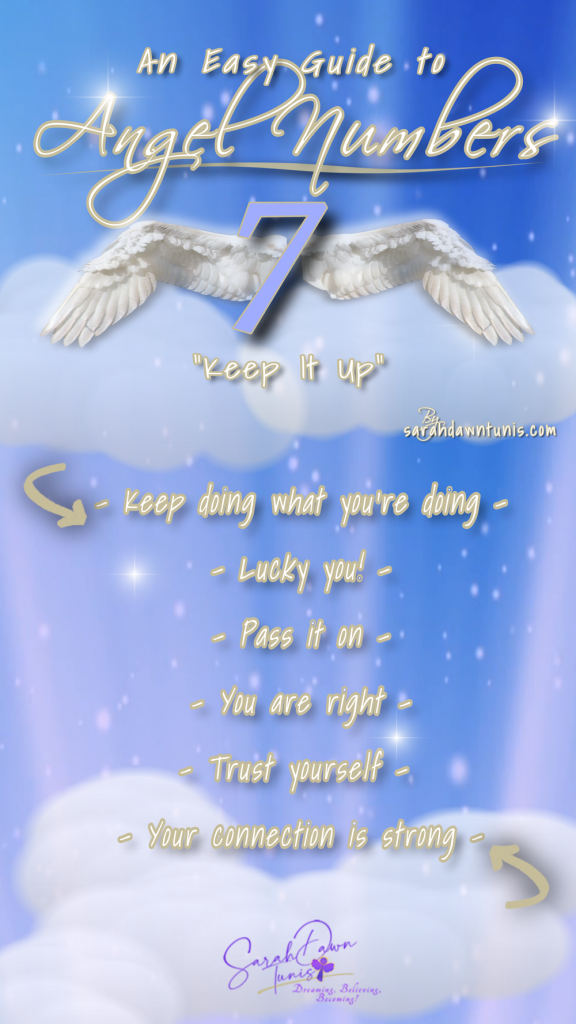 As soon as the energy of the angel number 7 shows up in your life, your angels start dancing, singing, cheering, and celebrating you and how far you have come. It doesn't matter how far you still have to go; what matters this month is how far you have come!
We are officially in the second half of the year. The first half is done, over, finito. And there is no going back. If you're anything like me, that thought can be quite overwhelming and even depressing.
Especially when I take note of how much of this year hasn't gone the way I wanted. Or all the stuff I did not do that I was so full of excitement and motivation to do when the year began. So much for those New Year resolutions…
However, the angel number 7 reminds us it is all just part of life. All the setbacks, delays, and unexpected events – all of it – is part of the journey. And they are the things that set you on the path you are meant to be on.
You may think you know exactly what you want, need, or should do to be on the path you've chosen – however, the truth is that you don't. If you are headed down a path that is not taking you in the right direction, the universe will create events that will stop you and force you to switch directions. And that is not always fun.
So this energy of celebration, brought to us by the angel number 7, is of vital importance. This is the time to take a step back from it all. Take a break, relax, and just chill out for a bit. As you do, take the time to reflect on everything you have accomplished this year.
Instead of ruminating about what didn't go the way you wanted, take inventory of what did go right. What changed your course? What unexpected things helped you? And most importantly, what did you accomplish? See how far you've actually come. And, for goodness sake, take the time to celebrate and appreciate it all.
The energy of this month is about action but is not outward action. It is not about getting crap done. The kind of action this month calls for is internal. It's the action of looking at yourself, what you want, and the path you are on. It is about stopping what you are working on, taking inventory of how far you have come, and making new plans and goals that are in accordance with what you want and are trying to achieve.
The energy of the angel number 7 is about self and spiritual development. About moving forward by taking the time to rest, reflect, and really understand ourselves and the path, we are on.
And perhaps most importantly, it tells us that our accomplishments are worthy of recognition and celebration. The angels are saying, "Your path, your life, and your spiritual awakening are not about the destination. It is all about the journey. Don't let the good parts slip by you. Take the time to celebrate with us and enjoy this journey you are on!"
So for the month of July, be sure to rest, reflect, and don't forget to celebrate the amazing, awesome, and powerful being you are!

Be sure to read "Keep it Up: Meaning and Messages of the Angel Number 7 " to learn more about the empowering and delightful energy of the angel number 7.
More Angels and Angel Numbers