---
Monthly Angel Number Energy
~ November ~
A Leap of Faith
---
Energy is shifting and dynamic. It is constantly flowing, changing, and running in and out of our lives. The energy around us affects the energy within us, and with each passing month, there is a significant energy shift as the number it resonates with changes.
The angels are using this monthly energy to send us guidance and suggestions so that we can use it to make the most of our life's path and to accomplish our dreams, goals, and soul's mission.
The following post is what the angels want us to know about the monthly angel number energy of November.
---
Here we are in November, almost to the end of another year. And let me tell you, my friends, the energy of this month is exciting!
First of all, this is the only month that carries the energy of a master number for the entire month. That in and of itself means you should look up and pay attention to how this month's energy is influencing you and your life.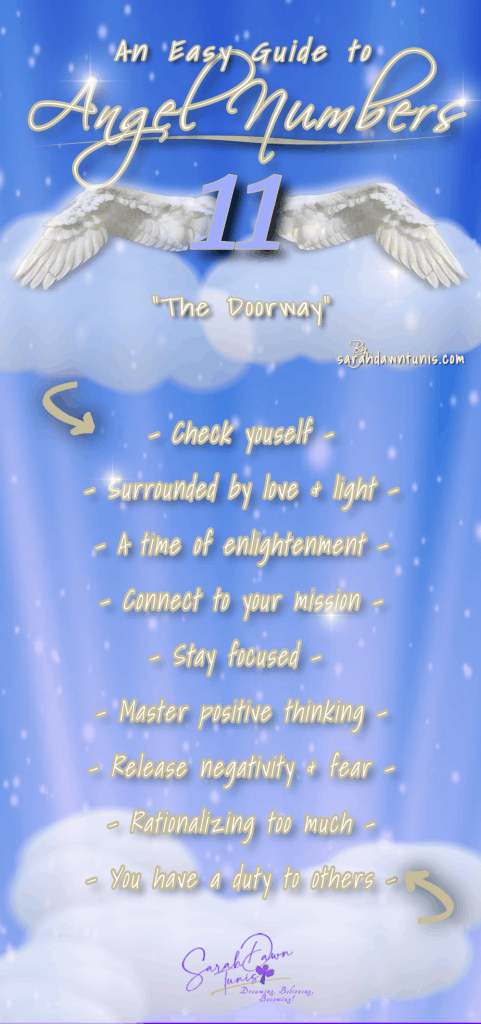 Secondly, it's the energy of the angel number 11! The angel number 11 is an amazing, hopeful, and inspiring energy that will help you transcend the limitations, doubts, fears, and anything that holds you back from accomplishing the biggest and most far-fetched dreams you can imagine.
The energy of the angel number 11 is inspiring, uplifting, hopeful, determined, and full of faith. It is a beautiful and awe-inspiring energy that resonates with the imagination and coming up with big dreams that are unrestricted by logic or rationality.
This is the energy that inspires us to create and dream up ways to make the impossible possible. Or, on a grander scale, how to create a little bit of heaven down here on earth. It is a very spiritual number that encourages and pushes us to accomplish our soul's mission and make the world a better place by using our imagination and dreaming up grand possibilities.
We are now at the end of the year, and it is time to get ready to go inside for the winter. In a way, that sounds a bit disappointing. The fun of summer, green trees, warmth, and vacations coming to an end…
Yet, take a walk down the street and notice how life from this year has completely transformed into the beauty of autumn.
The colors and falling leaves are how Mother Earth is preparing for all of life to go into hibernation and begin creating room for new life to emerge next spring. She is releasing the old of this past year in a miraculous display of colors and beauty.
This beauty signifies how leaving behind the past, even though it was fulfilling and joyful, has its own meaningful purpose and joy. As the past fades away, a path is being cleared for something new. Of course, those of you in the southern hemisphere are experiencing that life beginning to emerge now, but it has the same energy of beginnings, hope, renewal, faith, and positive expectations of what is to come next.
For us, this means it is the perfect time to follow suit with mother earth and let the past go. Then, full of excitement, wonderment, and awe, fall into the energy of the angel number 11 and begin dreaming up plans, goals, and desires for what is to come going into the next year.
The angel number 11 is most often thought of as a doorway. A doorway into spirit and the subconscious. An entrance into living with inspiration and imagination and following our intuition to turn it all into reality. And that is what the month of November is all about. Walking through the doorway into the next season of our lives. Leaving behind the past and dreaming up and creating new and inspired ideas for our future.
The energy of the angel number 11 is influencing all of us right now. And it is urging us to dream, hope, and believe. Dream of big, wonderful, and amazing things. To hope for those dreams to come true and to believe in the possibilities of the most amazing and wonderful things to come into manifestation.
This month carries a strong energy of mastering positive thinking and the manifestation of your thoughts swiftly and efficiently. Logic, rationality, and being sensible are not what this month calls for. This is the time to have unwavering faith in yourself and in spirit. Let go and believe – with abandon – that all things are possible. The angel number 11 is telling you that: if you can dream it, you can make it happen.
The angel number 11 is the most intuitive of all the numbers. So as you go forward this month, be sure to dream as much as you can, but also listen to and trust your intuition. This is a perfect time to really stretch and enhance those intuitive muscles because the energy this month will be supporting your efforts more than any other time of year.
To sum all that up, this is the month to really focus on dreaming and using your imagination without restriction. Dream about your future and dream up plans for how to take the first steps toward making those dreams happen. You do not have to restrict your dreams nor your faith in those dreams with logic and rationality. Just let it go; let it all go. Take a leap of faith and allow yourself to peer into a future full of love, joy, and positivity.
With faith – especially the faith of the angel number 11 – anything is possible.
Sending lots of love and blessings. May your November be full of wonder and joy.
Read "The Doorway" Meaning and Messages of Angel Number 11″ to learn more about the awe-inspiring energy of the majestic angel number 11.
November 2023 Events:
Make A Wish! November 11th (11/11) is coming soon! Be sure to read about the energy of the angel number 11:11 so you can make the most out of this energetically charged day.
More Angels and Angel Numbers